Traditional Japanese Footwear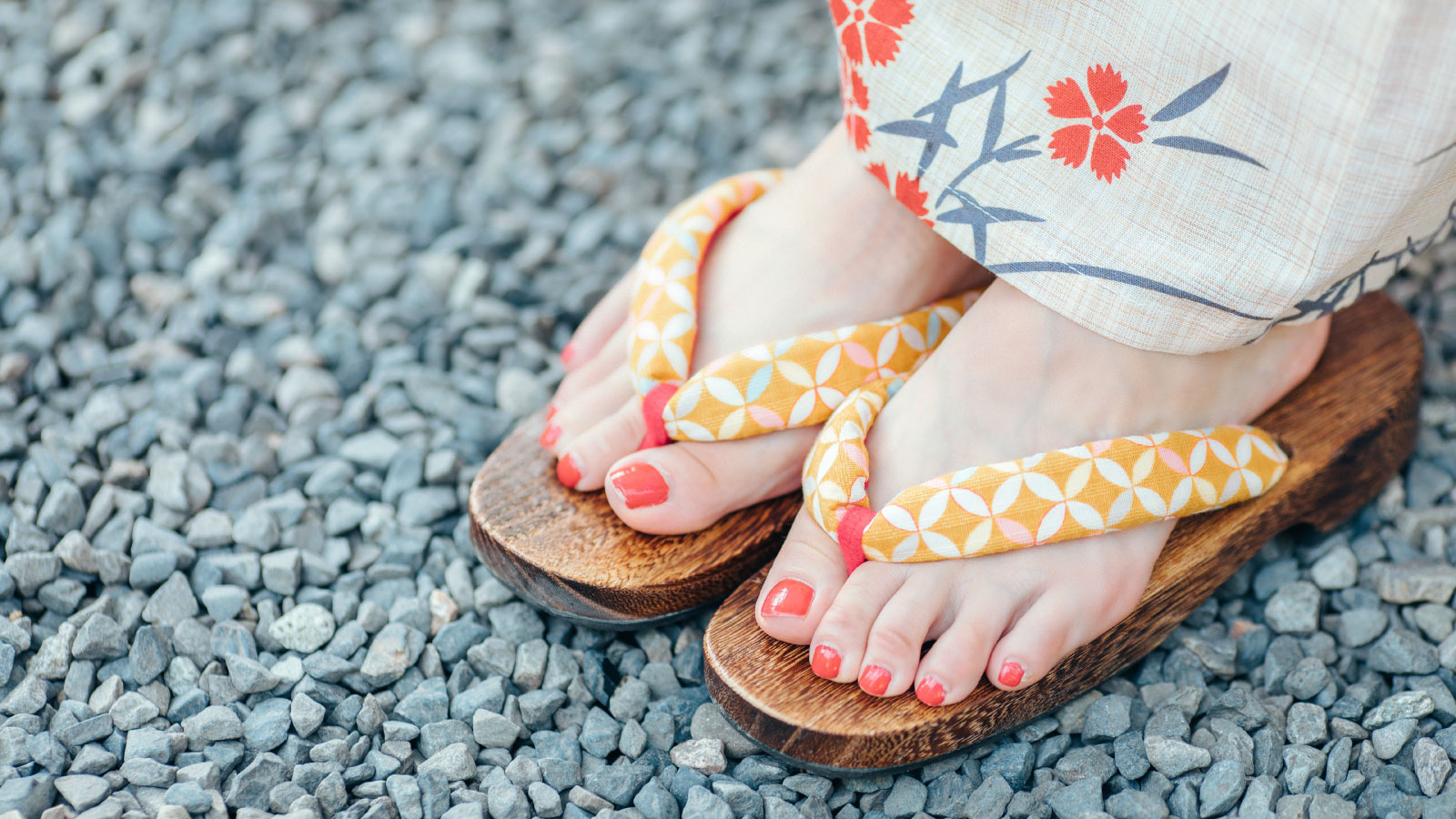 Traditional Japanese footwear is very distinct in style, and not super common to see today. Sandals, clogs, and flip-flop look-a-likes markup Japanese traditional footwear, varying in materials used. There is a focus on ensuring that blood can properly circulate to the feet due to the humid climate, hence the open-toed styles. Here are three styles of traditional Japanese footwear.
Zori
Often worn with tabi (white, split-toe socks), zori is traditionally made with cloth, rice straw, rubber, and lacquered wood. Zori looks like thonged sandals- or flip-flops as many call them. The ability to slip the shoes on and off when entering the home is important to Japanese culture, as it is custom to remove shoes before entering a home in Japan. Zori can often be seen worn with other traditional clothing such as a formal kimono. Zori was usually made at home and weaved using hands and toes.
Geta
Geta is similar to zori, but with some height added! These flat wooden shoes are supported by two or three "teeth," or other pieces of wood that raise the shoe up. These shoes have been worn since the neolithic period, and have continued to be worn with traditional Japanese clothes such as yukata. One of the benefits of these shoes is that the elevation keeps the legs and feet clean in a way that regular flip-flops or zori do not.
Waraji
Once considered common footwear in Japan, waraji dates back to the Heian period. Waraji was traditionally made in the home using tying techniques, usually made from
straw or rope material. In modern times, waraji is not widely worn except for fishermen and Buddhist monks. Waraji is valued for its lightweight, and was worn for long hours of work. Sometimes waraji is made of rice-straw, which only lasts a few days or even less depending on how much the wearer is using them. Waraji was easy to make, disposable, and inexpensive which is why it was so common. Also, wajari were considered a ceremonial piece, as they are said to provide protection on journeys and healthy feet. For this reason, they were often donated to temples or giant versions were hung up as a charm.