Nara Omizutori Festival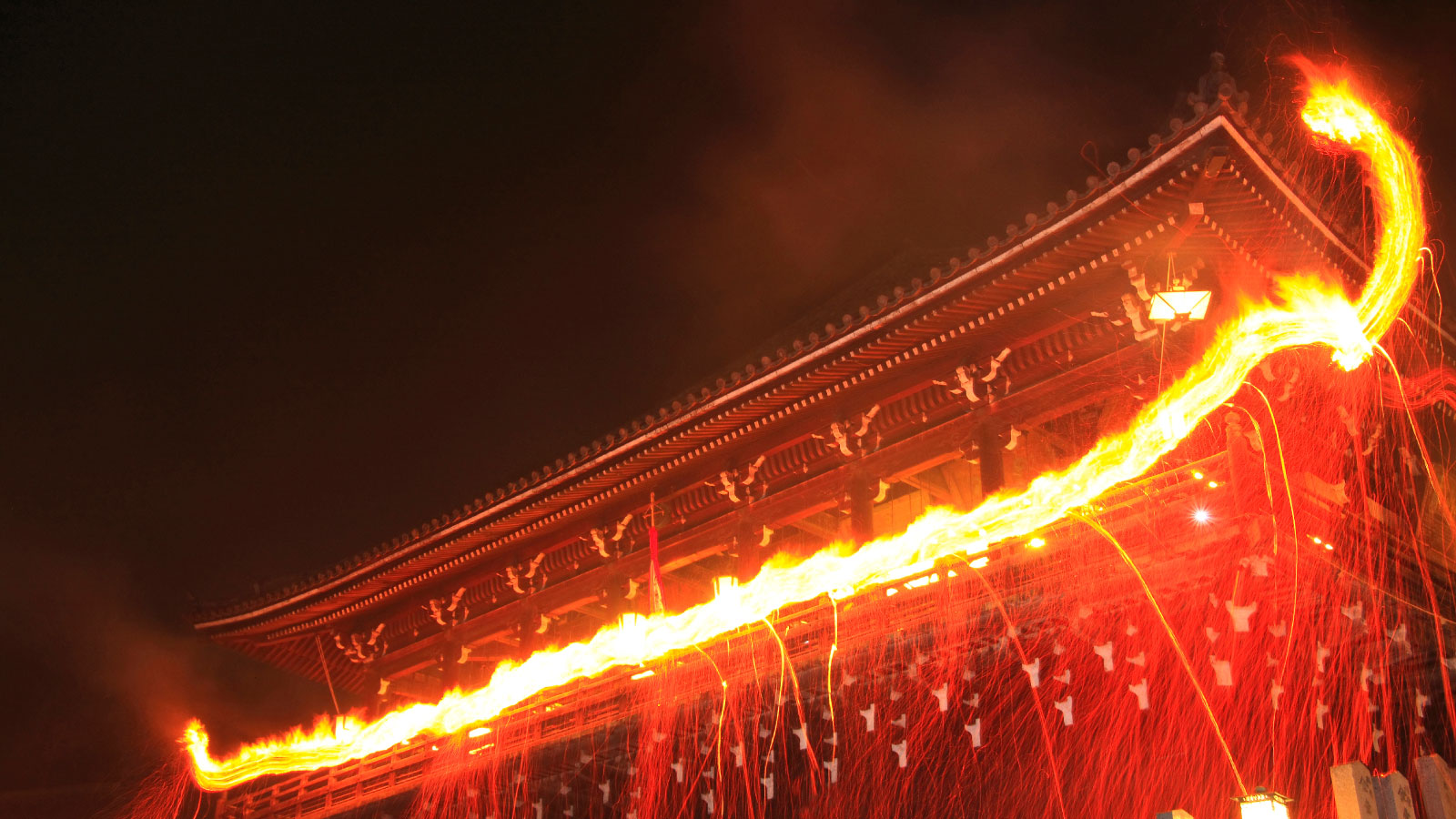 For over 1250 years, Todaiji Temple's subcomplex Nigatsudo Hall has held the Omizutori festival. This festival is one of the oldest Buddhist events in Japan, and is held from March 1st through the 14th. Omizutori is a sacred water-drawing festival that observes the final rite of the Shuni-e ceremony that cleanses people of their sins from the previous year in order to start fresh in the new spring season.
Omizutori is best known for its big flashy flames, as giant torches are lit and carried to the
Nigatsudo balcony for the crowd to see at sunset. Every day, the duration for which the torches are lit and the amount of torches vary. This affects the size of the crowd, as some days are more of a sight to see than others. Weather permitted, the crowd in the temple's courtyard can grow quite large.
On the nights of March 12th through the 13th, priests descend from the torchlight at the Nigatsudo and draw water from the temple hall. These are the biggest days of the entire Omizutori festival. This water is the reason the festival is called Omizutori, as it means "water drawing." This water is believed to have restorative powers, and has been replenished for over 1,200 years. This mixture of old and new water is saved for the following years to come.
Following the drawing of the water, the priests then carry out the Dattan ceremony in Nigatsudo hall. Here, the priests swing around giant burning torches in the wooden building as bells and horns make noise enhancing the mystery of the event. The giant torches are run in a way to scare away evil spirits and grant protection for all those in attendance.
Omizutori is a time of prayer and worship. During the span of these 14 days of flames, divine water, and crowds, people confess their sins to the Kanon statue. They also pray for a peaceful world and a good harvest for the spring season. Omizutori has remained an important part of the years for Japanese culture and religion.
Writer: Kayley Hill